1954
EPK (Elève Pilote Khmer) - Promotion / Class 'Suramarit'
En parallèle de cette toute première promotion qui débuta les cours à Pochentong, sept élèves étaient envoyés directement à Salon de Provence.
In addition to the cadets of this very first Class who were trained in Cambodia, seven others had been selected from the start and directly send to follow courses at the French Air Academy at Salon de Provence.

Effectif : 18 / Headcount : 18

Morts au Champ d'Honneur et en service aérien commandé


Killed in action

Kim Noul
Kim Roun
Sieng Leng




Disparus ou capturés par les KR

Missing or captured by the KR

Chin Ty
Chhun Pheang
Mao Kim Sourn
Oum Traluk
Penn Randa
Phan Simton
Sor Bounky

Khuon Frang (Cambodge)
Mom Kamel (USA)
Norodom Vatvani (Cambodge)
Pal Sam Or (USA)
So Satto (France)
You Heng (Cambodge)

--- Vivant en 2016 / Alive in 2016 ---

Norodom Baley (USA)
Paolim Sina (USA)



Les élèves pilotes Khmers (EPK) de la 1ère Promotion recevaient leurs entraînements à la Base de Pochentong à Phnom-penh. Quelques baraquements d'administration, des logements pour les troupes de sécurité et de protection, un camp pour des mariés, deux dortoirs et deux réfectoires pour les élèves pilotes et pour les sous-officiers techniciens (ESOT). Une autre grande baraque abritait les salles de classe, salle de briefing, salle de repos et bar, et un seul hangar pour les travaux d'entretien des avions.
The Khmer Pilot Students (Elève Pilotes Khmers – EPKs) of the Class 1 started their trainings at the Pochentong Airbase (Phnom Penh). A great building accommodated the class rooms, a briefing room, as well as a break and bar room. A single hangar was used for the maintenance of the aircraft. They were also two dormitories and two dining rooms respectively for the pilot students and the NCO technician students. Other structures on the nascent base included administrative buildings, those to accommodate the security troops as well as a quarter for the married personnels.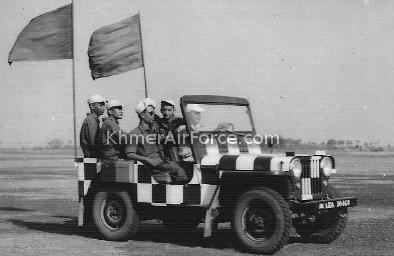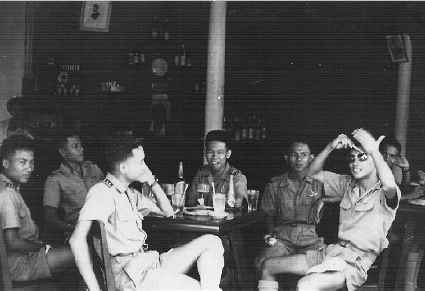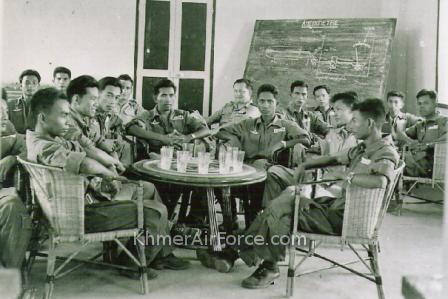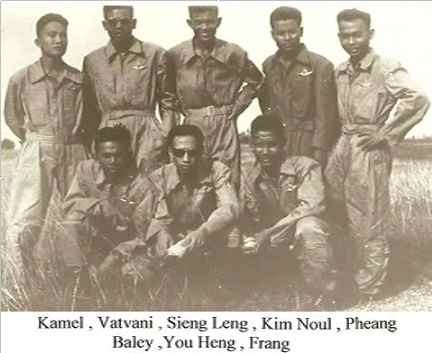 Après les formations militaires et les cours au sol, les instructeurs pilotes français prenaient en charge les 18 élèves.
After the basic military drill, the French instructors took over the training of the first class of 18 Cambodian students.





Leng - Frang - Vouox - Randa - Simton


Sina - Eliot - Baley






Les entraînements sur les avions MS 500 et Cessna 170, étaient au début ralentis par de nombreuses indisponibilités. En dépit de cela et après quelques 'booms' aux atterrissages (sauts de moutons), quelques 'chevaux de bois' effrayants (atterrissages en zigzag), quelques sorties de piste pour effrayer les lapins et leurs petits, les instructeurs parvenaient à lâcher leurs élèves pour des vols en solo.


The first flight were done on some Cessna 170s and MS 500s which had a poor availability rate, impeding a smooth progression of the courses. What a joy when we received the first MS 733s! These brand new aircraft allowed us a regular training program which included training on aerobatic maneuvers, the piloting on instruments without visibility techniques, and the in close formation practicing.


You Heng - Vatvani - Traluk - Sam Or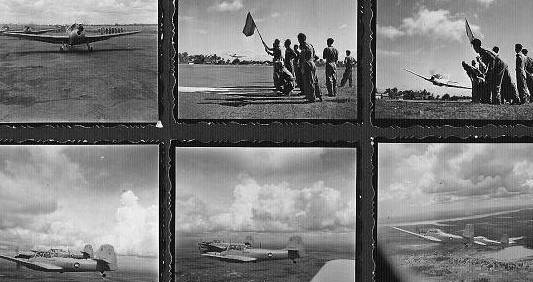 Enfin seul dans l'avion. Quelle fierté! Quelle joie! Elle fut totale quand arrivaient, début 1955, les avions Morane Saulnier MS 733 Alcyon. Avec ces nouveaux avions, les vols d'entraînement se faisaient sans interruption. Les vols de perfectionnement, les vols sans visibilité, les vols en formation et voltiges se suivaient jusqu'aux tests et examens.
After some hair dressing and worrying "hard landings", with sometimes unintentional runways exiting to scare the local rabbits families, what a proud sentiment when our instructors gave us the go ahead for a first solo flight. After the stringent tests, we were finally graduated.
| | |
| --- | --- |
| | |
| | Satto Le Roi Suramarith |
Le grand jour 'J' arrivait. Cérémonie de baptême pour les 18 élèves officiers de la 1ère promotion qui recevaient leurs brevets de pilote et leurs galons d'aspirant. La promotion était baptisée promotion Suramarit.
On the D-Day, the first class of eighteen at least received the coveted "wings" as well as their officer ranks. Our Class took the graduation name of Suramarit.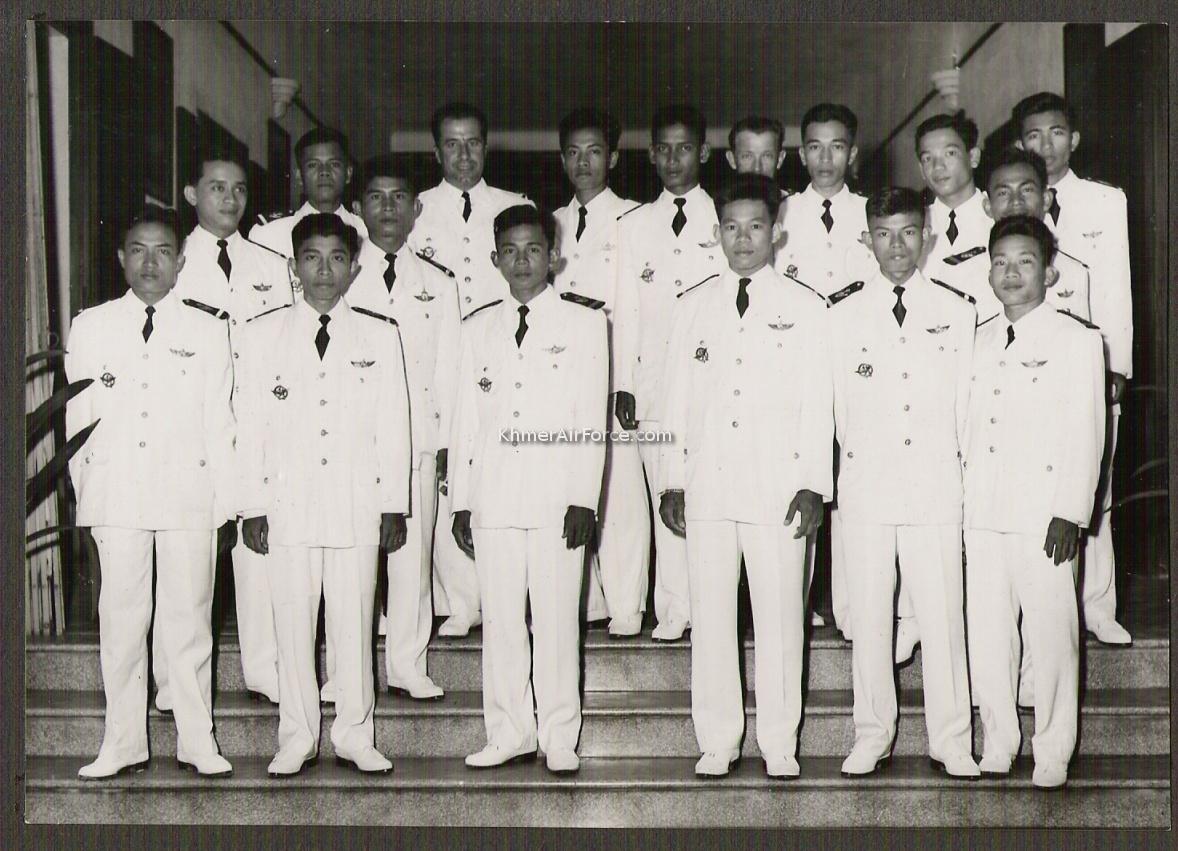 Base Aérienne Française de Saigon
L1: Vatvani - ? - Sina - ? - Frang - ? - You heng - Bounky - Kim Roun
L2: Satto - Simton - Pheang
L3: Or - Randa - Baley - Sourn - Sien Leng - Kamel
(Les trois autres élèves étaient aussi présents mais ne figurent pas sur cette photo)

Quatre aspirants sont sélectionnés pour une effectuer une préparation à l'Ecole de l'Air en France. Ils rejoindront la Promotion 1955 à Salon de Provence pour suivre le cycle complet des Elèves Officiers de l'Ecole de l'Air.

Four students were selected for a preparation course and sent afterwards to the French "Armée de l'Air" Academy at Salon de Provence to integrated the local 1955 Class.

Le reste de la 1ère promotion poursuivait les entraînements avancés au sein de l'Armée de l'Air française à Marrakech.
The other students went to Marrakech, French Morocco, to attend advanced trainings.
| | | | | | | |
| --- | --- | --- | --- | --- | --- | --- |
| Baley | Bounky | | Phan Simton | Traluk | Vatvani | Sam Or |